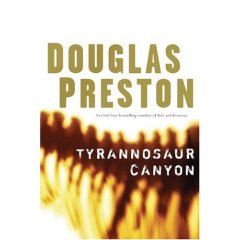 I guess Douglas Preston has become my new Michael Crichton. Ever since MC passed away, the literary world has really lacked for a very entertaining, interesting author. DP in my opinion doesn't have as unique of a voice as MC, and he sorely lacks for humor, but he writes very cinematic-like movies; ones that you can very easily see being turned into movies, though so far I don't think any of them actually have. But they're clean and they're fun and they make for a good read.
Preston reminds me of Crichton because he, like MC, extensively researches his books. This book has a great deal of scientific information in it, and you can tell in parts where the military is speaking or lab techs are speaking that the jargon they're using and processes they're describing are accurate. That helps the books feel somewhat more realistic.
Tyrannosaur Canyon
was, to me, a lot stronger than
Cabinet of Curiosities
. The story is more straightforward and it had some decent twists. I won't give away anything because the main crux of the story doesn't really get revealed until about 40% of the way through the book. But basically it's the story of a treasure hunter who gets murdered at the beginning of the book; a man finds him and, before he dies, he gives the man a notebook containing a highly encrypted code, and asks him to get it to his estranged daughter. The story is about staying away from the murderer, trying to find this daughter, trying to identify the treasure hunter, and trying to find his treasure.
The book is really well-paced. But, like
Cabinet of Curiosities
, there's not really a single laugh in the entire thing. Humor can go a long way in books like this, and this could have really used a lighter touch here and there. And although I liked the ending, I thought the location of the entire last 20% of the book was one of the least interesting locations the author could have picked. It's even more frustrating because the location just PRIOR to the whole ending location is a cool spooky abandoned gold mine. Why not hang out in there?
Still, good characters, a good story, decent twists, and clean dialogue and situations for the most part entirely throughout made this a recommended read.